Dining
In the Efteling Theme Park you'll find everything from quick-service takeaways to medieval dinners.
Register your interest for Efteling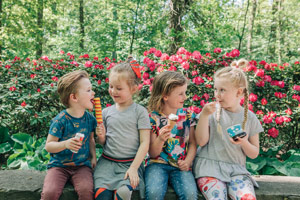 Located next to the Maz & Moritz attraction, Frau Boltes offers delicious french fries, classic snacks and a real Bengel Bucket filled with chicken or vegetarian treats. Choose to eat inside or outside on the covered terrace.

French fries & snacks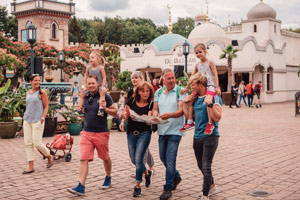 Enjoy a cup of coffee and admire the souvenirs in the Savannebar. Visit the International Cuisine for dishes with an African and Indian spin or a variety of international hamburgers.

International cuisine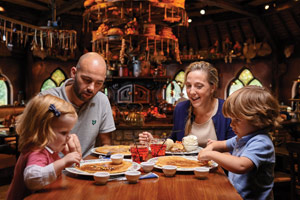 Ladles tap around the cooking stove while pans simmer and kettles whistle. Polle, Cook's mate, can barely handle the kitchen but has one thing under control - flipping pancakes according to his secret recipes. He;s even made the tallest stack of pancakes in the world!

Pancakes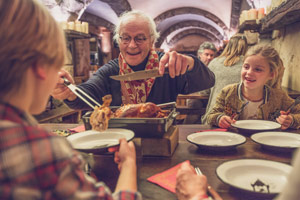 Enjoy a heroes dinner in the city of Raveleijn. Choose to dine here for a delicious lunch or a fantastic three-course dinner. Please note that booking a table for the three-course dinner is recommended; book your table by calling +31 (0)416-537 777. 

Chicken

Enjoy a delicious hot meal at this a la carte restaurant, offering meat, fish, vegan and vegetarian options. Choose between several starters, main courses and desserts.

Meat, fish, vegan & vegetarian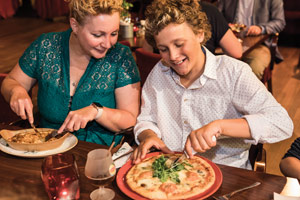 Pinokkio's pizza & pasta restaurant
Discover the fresh Italian kitchen as it's meant to be. You'll enjoy fresh pizzas and pastas in a cosy restaurant with that touch of Italy. Plus, children can choose what they'd like from the children's menu and decorate their own ice creams.

Pasta & pizza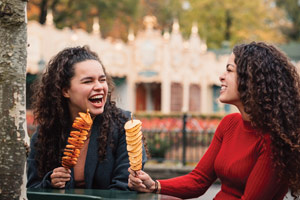 Pick up a freshly made toastie or roll and some juice from this takeaway stop opposite the exit of the Fairytale Forest.

Takeaway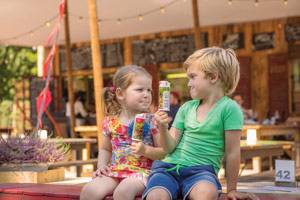 Choose from a varied range of offerings, including sweet cakes, fresh sandwiches, salads and delicious burgers and fries. Children can enjoy the kids menu that they can put together themselves!

La place restaurant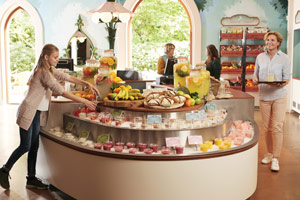 You'll find this self-service restaurant next to the family attraction Droomvlucht, offering fruit salads, soups, smoothies and lemonades.

Takeaway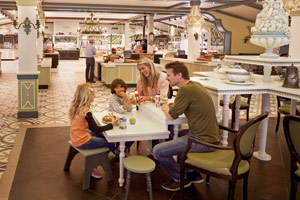 A classical tea house with an atmosphere of yesteryear. Choose something sweet or enjoy an extended lunch with a sandwich, salad or hot meal.

Sandwiches & soups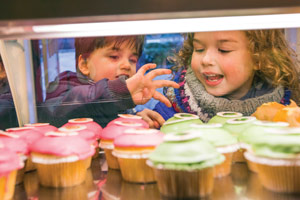 In the heart of the Fairytale Forest you can pick up a cup of coffee, a soft drink and a slice of cake. Or will you choose an apple turnover or a brownie?

Coffee & sweets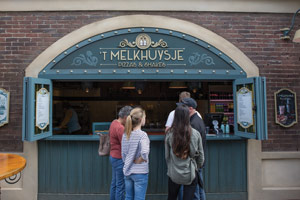 Did you know that mineworkers would drink a glass of cool milk to get rid of dust and soot in their body? So if you're feeling a bit dusty after riding the thrilling Baron 1898, head to 't Melkhuysje and treat yourself to a delicious milkshake, or even a slice of pizza.

Milkshakes & pizza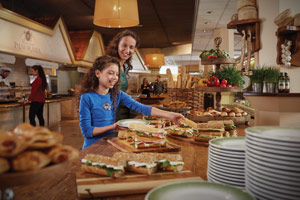 If you fancy a main course salad, cup of soup or a baguette sandwich then head to Panorama Take-away. You can even grab a quick coffee and pastry on your way to the next exciting attraction.

Sandwiches & soups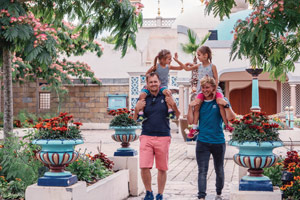 If you're in the mood for a typically Dutch speciality, then 't Poffertje Take-away is the place to go. Relax with a hot drink and freshly baked 'poffertjes' (mini pancakes). 

Mini pancakes & drinks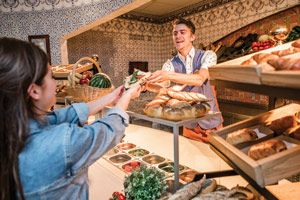 Station de Oost restaurant
Here you'll find several takeaway counters all under one roof. The Verse Oost offers a selection of fruit, juices and freshly made sandwiches, or you can snack to your hearts content at De Hongerige Machinist. For Efteling's best döner kebab or Turkish pizza head over to De Brutale Aap; and for biscuits or simply something to drink then pop to De Rustende Reiziger. 

Various takeaways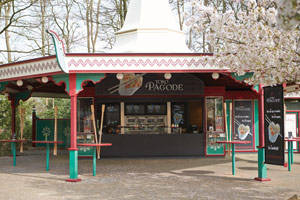 Located next to the Pagode, this restaurant offers Thai style takeaways. Choose from noodles, fried rice or plain rice and add your favourite sauce from the selection.

Oriental food & beverages

For more information or to book please call us on 0330 880 5145

©Efteling 2020